Il corpo è trovato di fronte a
Essex Wharf
,
Brown and Eagle Wool Warehouse
e
Schneiders Cap Factory
sul passaggio d'ingresso per il cortile di Brown tra un Collegio (a ovest) e le villette a schiera (cottages) appartenenti alla migliore classe di commercianti. L'area è stata demolita e ricostruita tra il 1875 ed il 1887 per permettere la costruzione delle linee di metropolitana.
Il corpo della vittima è quasi sotto la finestra della signora
Emma Green
che vive nella prima casa accanto ai cancelli dello stabili con i 2 figli e la figlia. La casa è chiamata '
New Cottage
'.
Opposto a New Cottage vive
Walter Purkiss
, l'amministratore di Essex Wharf con la moglie, i figli ed una serva.
Sono circa le
04:00
quando il
Sergente Kerby
ritorna sulla scena del crimine. Era passato circa un'ora prima durante la sua perlustrazione. Non aveva notato nulla da segnalare.
Kerby
a questo punto si occupa di intervistare la
Signora Green
. Nel frattempo l'agente
Neil
si occupa d'intervistare la famiglia
Purkiss
.
Emma Green
è vedova. Quella notte, un figlio va a letto alle
21:00
, l'altro lo segue alle
21:45
. La signora Green e la figlia condividono una camera al primo piano nella parte anteriore della casa. Sono andati a letto verso le ore
23:00
.
Emma Green
afferma che tutti hanno dormito indisturbati da qualsiasi suono insolito fino a quando sono stati
svegliati dall'arrivo della polizia
.
Walter Purkiss
e la moglie sono andati a letto alle
23:00
ed alle
23:15
rispettivamente. Entrambi dichiarano di essersi svegliati molte volte durante la notte ma di non aver sentito nulla di sospetto.
Sulla scena del crimine arrivano anche
James Mumford
,
Henry Tomkins
e
Charles Brittain
li raggiunge subito dopo. Sono circa le
04:15
. I tre sono
macellai di cavalli
che lavorano da
Barber's Knacker's Yard
, il macello di
Winthrop Street
a circa 150 yards ( circa 138 metri) dal luogo del ritrovamento del cadavere. L'agente
Neil
li aveva visti al lavoro poco dopo le
03:00
poichè le porte del macello erano aperte. Sono stati informati dell'accaduto dall'agente
Thain
mentre si recava dal dottore.
Arriva sulla scena del crimine anche
Patrick Mulshaw
, un
guardiano notturno
alle dipendenze del
Consiglio dei Lavori del Distretto di Whitechapel
(Whitechapel District Board of Works). Durante la notte dell'omicidio stava controllando i lavori fognari sul retro del
Working Lads' Institute
in
Winthrop-street
a circa 70 yards ( 65 metri) dal macello di
Barber's Knacker's Yard
. Non c'era nessuno in giro dopo le
23:00
o
24:00
, e gli abitanti della strada sembravano essere persone molto ordinate. Non ha visto molta polizia da quelle parti ma
si ricorda di aver visto 2 agenti tra cui Neil
ma non può stabilire a che ora. Dalle
03:00
alle
04:00
era sveglio e non ha visto nessuno durante quel periodo di tempo, non ho sentito alcun grido di aiuto, o qualsiasi altro rumore. Alle
04:40
si è recato sulla scena del crimine perchè un passante lo ha avvisato di quanto poteva essere accaduto.
L'agente
Thain
arriva con il
dottor Llewellyn
che esamina velocemente la vittima ancora sdraiata sulla strada.
Intanto l'agente
Mizen
arriva con l'ambulanza. Il corpo viene caricato e portato all'
obitorio
di
Old Mortague St
dagli agenti
Neil
e dal
Sergente Kerby
con il supporto di un
ufficiale della Divisione H
. L'agente
Thain
rimane sulla scena del crimine.
James Green
, figlio di
Emma Green
, esce da casa con un secchio d'acqua per lavare via il sangue dal marciapiede.
Tomkins
,
Brittain
e
Mumford
lasciano la scena del crimine.
Arriva l'
Ispettore John Spratling
(J-Div) che era in
Hackney St
quando gli viene notificato l'omicidio alle
04:30
. L'agente
Thain
gli mostra il luogo in cui si trovava il corpo della vittima mentre
James Green
sta ancora pulendo le pietre.
Spratling
e
Thain
si dirigono poi all'
obitorio
in cui è stato portato il cadavere ancora da identificare.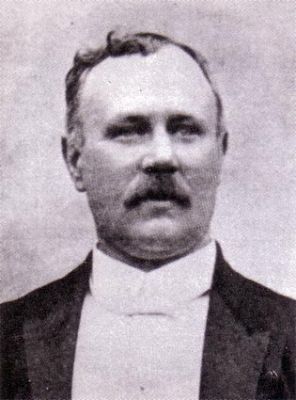 Detective Sergente George Godley
Sono circa le
06:00
quando l'agente
Thain
ritorna sulla
scena del crimine
con l'ordine di esaminare le aree limitrofe alla ricerca di indizi (Essex Wharf, Great Eastern Railway, East London Railway, e la District Railway fino a Thomas St).
Dopo un'ulteriore analisi della vittima da parte del
Dr Llewellyn
all'obitorio, anche
Spartling
, che ora
conosce la violenza effettiva del crimine
, torna sulla scena del crimine e perlustra
Buck's Row
e
Brady St
. Qui incontra il
Detective Sergente George Godley
del
CID
e dopo aver nuovamente visitato la scena del crimine, insieme perlustrano
Great Eastern Railway Yard
e le aree limitrofe alle linee
East London
e
Metropolitan District Railways
.
L'Ispettore
Joseph Henry Helson
riceve notifica dell'omicidio verso le
06:45
e si dirige a
Buck's Row
dopo essere passato all'
obitorio
. Esaminando la zona, scopre
una macchia che potrebbe essere sangue
, in
Brady St
.
Rate this posting: